103-year-old J-School alumna establishes journalism scholarship
---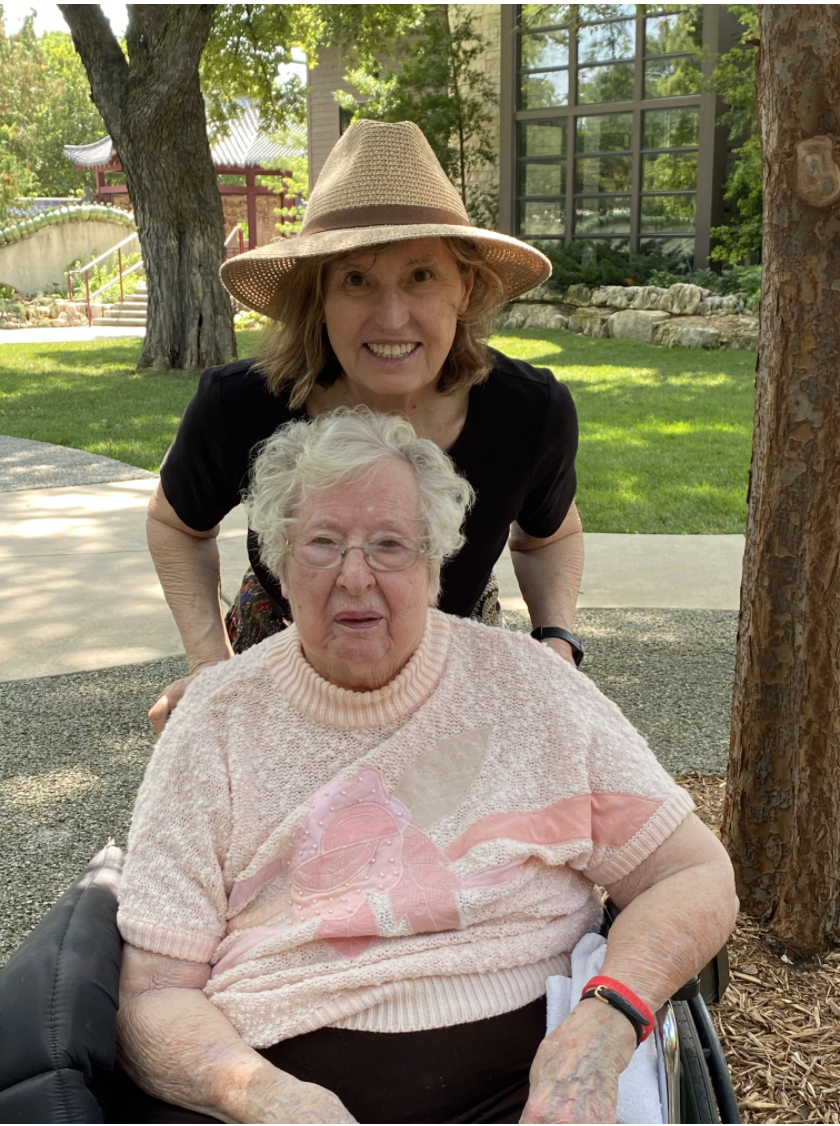 Birthdays provide opportunities to reminisce about the years gone by, and for Loretta Pendergraft (j'40), there's a lot of them to look back on. Pendergraft turned 103 on Aug. 11, and is perhaps the oldest graduate of the William Allen White School of Journalism and Mass Communications.
Pendergraft has used her journalism degree and her talent for writing throughout her life, and now she is now helping the new generation do the same through the Loretta Diggs Pendergraft and Keith Pendergraft Journalism Scholarship. Since its establishment in 2020, it has been awarded twice to J-School student Alicia Getty.
Getty surprised Pendergraft on her birthday with a video thanking her for the scholarship. "I have really been able to focus on my studies and dive deeper into the subjects that I am interested in and this scholarship has really allowed me to do that," Getty said.
Pendergraft currently resides at the Larksfield Place Retirement Community in Wichita, but her journey to KU began with an interest in journalism sparked by a comic strip.
Born in 1918 in Emporia, Kansas, Loretta Diggs was writing stories at a young age and had a particular talent for English and grammar. She didn't find traditional jobs for women such as teacher or nurse particularly interesting, but she was intrigued by the adventures of "fearless girl reporter" Jane Arden, which was a comic strip featuring a female journalist.
Pendergraft continued to excel in her writing at Emporia High School and was editor-in-chief of the yearbook. Her talent didn't go unnoticed. She was invited by a teacher to visit KU's journalism department for a weekend — an opportunity only three other students were given.
"I took more journalism than I would have ordinarily, more hours of journalism, because I wanted the department to see me, to know me," Pendergraft said.
Pendergraft started writing for the University Daily Kansan, where she eventually became an associate editor. Four years after her graduation, she married Keith Pendergraft and had a daughter, Jo. While her husband was in Europe serving in World War II, Pendergraft wrote for several publications including the Kingman Leader-Courier, Junction City Daily News and Ponca City News.
After the war, Pendergraft worked for Child Life Magazine and Sports Illustrated.
Upon moving to Wichita in 1950, Pendergraft got involved in the community, eventually working with Project Beauty to promote Wichita beautification, the Wichita Art Museum and the local retired officers wives association. She helped start the city's renters association and went on to own a rental business with her husband, which they ran into their late 80s.
She enjoyed traveling with her family, including road trips across the United States and exploring abroad in Germany, England, Ireland and Scotland.
Even after retirement, the couple continued to learn by taking adult education classes. At age 103, Pendergraft is still passionate and curious about lots of things but especially about politics, history, botanical gardening and KU basketball.
"She's a journalist," her daughter Jo Clifton said, noting that she still maintains a subscription to The Wichita Eagle and The Wall Street Journal. "She wants to go do and see and be involved in what's happening right now. She's still like that and I'm very proud of her."
Photo: Loretta Pendergraft and daughter Jo Clifton photographed on Pendergraft's birthday Aug. 11, 2021, at Botanica, the Wichita Gardens.
Because of many generous donors like Loretta Pendergraft, the William Allen White School of Journalism and Mass Communications awards more than $600,000 each year to KU journalism and mass communications students. Learn more about all of the school's scholarships and recipients or make a donation to our scholarship fund.