Book outlines how Historically Black Colleges and Universities weather accreditation, pandemic budget challenges
---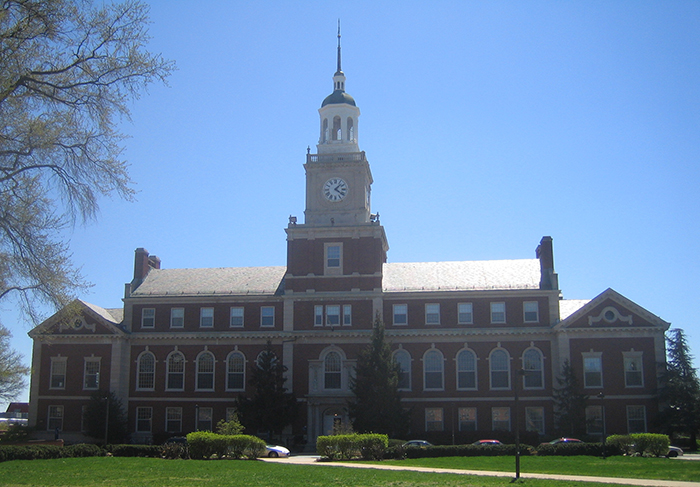 LAWRENCE — The COVID-19 pandemic took a heavy toll on schools at all levels. Yet, for historically Black colleges and universities (HBCUs), the pandemic was one more challenge that has strained budgets and even put some schools at risk of closure. A University of Kansas researcher has written a book that examines the financial, accreditation and political difficulties of recent years at HBCUs and how their leaders can rise to the challenge.
"Journalism at Historically Black Colleges and Universities: Governance and Accreditation," by Jerry Crawford II, associate professor of journalism & mass communications at KU, traces the current-day obstacles present for the institutions, as well as those for minority-serving institutions, tribal colleges and universities, and Hispanic-serving institutions. HBCUs — often referred to as 1890s schools for when they were founded as a way for newly freed African Americans to access higher education often denied them at other institutions — face a number of challenges, including existential.
"I wanted to put this in the framework of where we are in 2021 and 2022, and look at how presidents, provosts and leaders of these institutions lead among these challenges," Crawford said. "The book is not political, but it does look at the big question that is so often asked, 'Why are these schools still here?' I want to show why they are valuable and essential."
Some HBCUs that were in operation when Crawford began his research in the area are no longer open. Budget cuts, loss of accreditation, political decisions and declining enrollment are among the factors that have led to the shuttering of several HBCUs. While majority-white institutions have also seen declining enrollments, they more often have large endowments to rely on to weather financial storms.
In the book, Crawford outlines how HBCU leaders can take their schools into the future by relying on best practices. That often takes the form of accreditation. While bodies such as the Accrediting Council on Education in Journalism and Mass Communications can declare whether a program has met its criteria for accreditation, not achieving the designation does not have to be a death knell. Crawford said that while accreditation is beneficial, there are unique challenges at some HBCUs to attaining it. For example, one criterion for journalism accreditation is faculty scholarship and research. However, faculty at the institutions are often teaching three or four separate courses per semester, leaving very little time for research. Schools with mostly minority enrollment were often not deemed equal to majority-white schools but still managed to educate their students.
"It always seems the smaller HBCUs are the ones shuttered. I wanted to look at in the book how we could address that," Crawford said. "Maybe they can't get accreditation, but they can still use best practices for educating their students. Not being accredited does not necessarily mean they are inferior, especially looking at American schooling in the wake of Plessy v. Ferguson."
The book examines accreditation standards, especially for journalism programs, how they have evolved in recent years and examples of how HBCU administrators have met them or improved their programs when they have not been able to do so. Such challenges speak to the importance of leadership having buy-in from the faculty of their institutions, Crawford said. That shared governance is key to HBCUs meeting goals and overcoming challenges, and Crawford devotes a chapter to how the institutions can and have successfully paired leadership in working relationships with the faculty to stay viable.
While recruitment and retention of students are paramount concerns for many schools, HBCUs face the threat on a more fundamental level. Where a majority-white institution may look to reverse declining enrollment trends, people including political leaders don't often question why they still exist. But that is a challenge for HBCUs, Crawford said, as people often ask why they exist when African American students have been allowed to enroll at any school for decades. He shares the example of St. Paul's College in Virginia that was closed because of declining enrollment and similar courses of study offered at the larger state schools.
"I encourage people to think about these institutions as economic engines for their areas as well," Crawford said. "Closing HBCUs would be like if we closed Pittsburg State or Emporia State here in Kansas, simply because the majors offered at those schools are offered at larger state institutions. It would be devastating for those communities."
The COVID-19 pandemic was a threat to HBCUs, just as it was to the entire field of education. One of the book's chapters focuses on how HBCUs met the pandemic and unique challenges it posed. While many schools quickly shifted to remote learning, others did not have it so easy, as some did not have institutional Zoom accounts to enable online classes, or others did not have tech security staff members who could oversee online learning. Throughout the chapter, HBCU leaders shared how they managed the pandemic and how work/family conflict, role overload and job demands all weighed on their handling of education during a pandemic, as well as how confident they were that their institution would be able to reopen.
The book closes with chapters on the role of academic libraries at HBCUs and how they can help faculty attain accreditation, as well as a look at the specific accreditation challenges of other minority-serving institutions, tribal colleges and universities, and Hispanic-serving institutions.
Those institutions, as well as HBCUs, "represent the hopes and dreams for many students from underrepresented communities," Crawford wrote. He also points out that more than 80% of people of color working in media have been touched by HBCUs in some way. Losing them would only further reduce the diversity of voices working in that field and the many others that the institutions prepare young people for, he wrote.
Crawford closes by urging leaders to work closely with their faculty to ensure they remain viable and achieve their goals together in achieving accreditation, balancing budgets, attracting and retaining students, and keeping their doors open.
"The book is largely about journalism programs, but I also look at the totality of how presidents, regents and leaders can provide good leadership to keep these institutions open and viable," Crawford said. "I want to champion HBCUs and minority-serving institutions as vital places of learning and help them use good leadership and governance to meet their challenges."
Image: Founders Library at Howard University. Credit: Wikimedia Commons.
Updated on: 04/26/2022