Cade Cruickshank
---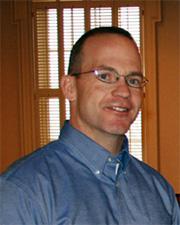 Director of Broadcast Operations
Chief Broadcast Engineer
Contact Info
Stauffer-Flint Hall, room 200B
1435 Jayhawk Blvd.
Lawrence, KS 66045
---
Biography
—
Cade Cruickshank is the Director of Broadcast Operations/Chief Broadcast Engineer for the J-School's student-operated television station, KUJH-TV, and the Media Crossroads Studio. He's responsible for making sure the equipment for these outlets operates properly. Cruickshank also is in charge of the video production labs in the Dole Center and maintains the School servers, which store materials for many classes. As if that weren't enough, he's also the system administrator for the School's computer labs.
Cruickshank said he likes the quality of students in the J-School, and he likes the variety his job provides.
"There is something new every day," he said.
Before coming to KU, Cade Cruickshank spent four years in the U.S. Air Force, where he studied broadcast engineering. While in the military, he worked in a video production studio.
Cruickshank then spent six years in the Kansas City, Missouri, School District Magnet Program as an engineer.
Education
—
Electronics, Truman University
U.S. Air Force