David Johnston
---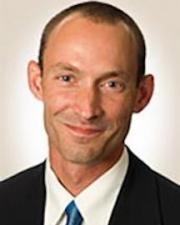 Biography
—
David Johnston works at the University of Kansas as vice president of marketing and digital media for the KU Alumni Association. In addition to teaching Journalism 560: Message Development, he also teaches an introductory course in the Leadership Studies minor at KU. A former KU student-athlete and cross country All-American, Johnston is a past president of the K Club board of directors for KU Athletics. He has served on several campus and community advisory boards, and he is a graduate of Leadership Lawrence.
Johnston grew up as a Jayhawk in Lawrence and comes from a loyal KU family. After graduating in 1994, he managed a congressional district office in Lawrence briefly before moving to Chicago to work for Leo Burnett Advertising and Starcom Media Services. He returned to Lawrence in 2000 to serve as the first marketing coordinator for the KU Memorial Unions before being promoted by Chancellor Hemenway in 2004 to serve as the university's first institutional director of marketing. In that role he authored the university's integrated marketing plan and oversaw the creation and implementation of KU's first visual identity system and brand standards for proper use of the Jayhawk and "Trajan" KU logo.
Today, Johnston oversees all marketing and digital media for the KU Alumni Association, encompassing online communication and technology, broadcast email, social media and mobile strategy. He holds two degrees from KU, including a BS in Journalism (advertising) and an MS in Higher Education Administration. He lives in Lawrence with his wife, Sara, and their three children, Sydney, Sophia and Austin.
Education
—
Journalism, University of Kansas
Higher Education Administration, University of Kansas