Eric Thomas
---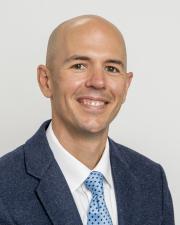 Director of the Kansas Scholastic Press Association
Lecturer
Contact Info
Dole Center for Human Development, room 2071
1435 Jayhawk Boulevard
Lawrence, KS 66045
---
Biography
—
Eric Thomas focuses on supporting scholastic journalism, teaching visual communication and connecting high school journalists to the university. 
As the executive director of the Kansas Scholastic Press Association, Thomas leads the organization's programming, such as contests, scholarships, conventions and critiques. The association is housed in Stauffer-Flint Hall, enabling KU students to intern and work for the association. 
At KU, Thomas teaches a variety of subjects, but specializes in visual journalism classes like Visual Storytelling, Photojournalism and Documentary. Before he began teaching, Thomas worked for a community newspaper in Indiana, the Marion Chronicle-Tribune, as a staff photographer. In response to a ten-part special series by the newspaper, the local community nominated the newspaper for a Pulitzer.
During the summer, Thomas directs the Jayhawk Media Workshop  a five-day summer camp for high school students who are interested in journalism. Over the decades, the camp (formerly the Kansas Journalism Institute) has introduced thousands of students to the KU campus and drawn them to enroll. 
He began his teaching career at St. Teresa's Academy, where he advised student publications, including the student newspaper, yearbook and online new site. During his time teaching in high school, Thomas earned the 2006 Missouri High School Journalism Teacher of the Year. All three publications earned the highest awards in high school journalism by being nominated for the NSPA Pacemaker eight times and winning four.
Thomas has a bachelor's degree in journalism with a concentration in photojournalism and a master's degree in journalism education from the University of Missouri.
Education
—
B.A. in Journalism, University of Missouri
M.S. in Journalism Education, University of Missouri
Awards & Honors
—
Missouri High School Journalism Teacher of the Year, 2006