Judy Watts
---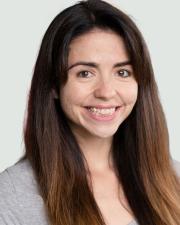 Contact Info
Stauffer-Flint Hall, Room 207D
Lawrence
1435 Jayhawk Blvd.
Lawrence, KS 66045
---
Biography
—
Judy Watts (she/her)  is an assistant professor in the William Allen White School of Journalism and Mass Communications at the University of Kansas. She recently received her doctorate from The Ohio State University School of Communication. Her research interests include narrative persuasion, health communication, and children's understanding of media. Broadly, her research pursues the influence of media on individuals' emotional responses, attitudinal change, and knowledge across the lifespan. She has been published in the Journal of Communication, Media Psychology, Health Communication, Journal of Health Communication, and Broadcasting of Entertainment & Media. 
In regard to teaching, Dr. Watts aims to center students' experience and provide an inclusive learning environment. As such, students can expect learning facilitated through conversation and participation where possible. She has taught interpersonal communication and managing public disputes. She teaches courses in the Digital Marketing Communications, Advertising and Public Relations concentration at the J-School involving writing, message development, and research methods.
Before joining academia, Watts had a career in public service, working for local and regional government entities as their public information officer and outreach administrator. She began her professional career by working in development for a local public radio station. Her hobbies include completing her national park passport by visiting national parks, kayaking, running, and yoga. She also volunteers for her neighborhood community garden.
Education
—
B.S. in Radio-TV-Film, University of Texas, Austin, Texas
M.S. in Public Service, Clinton School of Public Service at the University of Arkansas, Little Rock, Arkansas
Ph.D. in Communication, The Ohio State University, Columbus, Ohio