Nancy Mays
---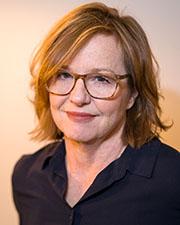 Contact Info
Stauffer-Flint Hall
Lawrence

---
Biography
—
Nancy Mays is a communications consultant and writer. She is also a graduate of the William Allen White School of Journalism and a former University Daily Kansan reporter. 
Mays began her career as a newspaper reporter, working in publications across Kansas, including the Coffeyville Journal and the Topeka Capital-Journal. She then worked as a journalist in Caracas, Venezuela, writing for the Caracas Daily-Journal as well as the Associated Press and Reuters. 
She then switched paths to marketing communications. Mays has led communications and public relations teams for a variety of entities, including H&R Block, Applebee's and Johnson County Government. 
She now runs her own consulting firm, where she works with businesses and nonprofits on branding, public relations and content strategies. Mays also publishes short fiction in a variety of publications, including the Colorado Review, the Mid-American Review, Eclectica and Ploughshares. 
While an undergraduate at KU, she also received a bachelor's degree in Spanish Literature. She received her MFA in Creative Writing and Media Arts from the University of Missouri-Kansas City. She lives in Mission Woods, Kansas, with her husband. They have four (mostly) grown children. ​
Education
—
B.S. in Journalism, University of Kansas
B.A. in Spanish Literature, University of Kansas
MFA in Creative Writing and Media Arts, University of Missouri-Kansas City