Patricia Weems Gaston
---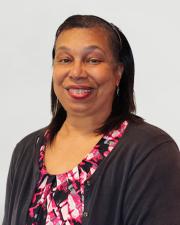 Lacy C. Haynes Professor of Journalism
Professor of the Practice
Contact Info
Stauffer-Flint Hall, room 208
1435 Jayhawk Boulevard
Lawrence, KS 66045
---
Biography
—
Patricia E. (Weems) Gaston (j'81) joined the University of Kansas two years ago after a long, stellar career at The Washington Post, where she was an editor who worked on several desks including National, Foreign and Editorial. Before coming to the Post in 1997, Gaston worked at the Dallas Morning News, where she was an assistant foreign editor and was co-editor of the 1994 Pulitzer Prize-winning series on violence against women.
She grew up in Kansas City, Kansas, and graduated from the University of Kansas in 1981. She has a master's degree in sports management from The George Washington University.
In 2013, she was a Leadership Institute Fellow with the Center for American Progress, a progressive public policy program. In her spare time, Gaston has worked as a kitchen, case management and advocacy volunteer at Miriam's Kitchen and served on the agency's Volunteer Advocacy Advisory Committee. She also served two, two-year terms as the co-chair of the Diversity and Inclusion Task Force of the American Association of University Women. 
Since returning to KU to teach, she advises the staff of the University Daily Kansan, led the school's search for the Knight Chair in Audience and Community Engagement for News, serves as a mentor in the Rising Scholars Program, is a member of the William Allen White Foundation, the University's Committee on Faculty Rights, Privileges & Responsibilities, the school's Curriculum and Grievance committees and the William Allen White National Citation Award Nomination Working Group. In the spring, she was elected to Faculty Senate and is a member of the executive committee.  
Education
—
B.A. in Journalism, University of Kansas
M.S. in Sports Management, The George Washington University
Awards & Honors
—
1994 Pulitzer Prize-winner:  As an assistant foreign editor at The Dallas Morning News, Gaston  was co-editor of the series on violence against women.
Lacy C. Haynes Professorship at the University of Kansas, 2018-present