Scott Reinardy
---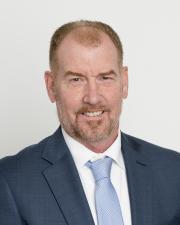 Associate Dean for Student Success
Malcolm Applegate Professor in News Management and Editing
Contact Info
Stauffer-Flint, room 200D
1435 Jayhawk Blvd.
Lawrence, KS 66045
---
Biography
—
When I was entering graduate school after years of daily newspaper experience, I was asked, "What kind of academic research can we do to assist the profession?" At that time I had few answers. Now, much of my life's work is dedicated to not only addressing that question but to developing classroom strategies in implementing the answers.
It is not unusual for a mid-career professional to transition to the academy. However, it is unusual for a former sports writer and editor to earn a Ph.D. during that transition.
Now that I have made that transition, I continue to be rooted in the practice through research, immersive student journalism programs and regular interaction with professional journalists.
As part of my research during the past 15 years, professional newsroom workers have explained how their jobs have changed and what they have done to manage the changes. Reporters and editors have discussed the complications of breaking news on social media and what it means to the daily newspapers. Broadcast and newspaper journalists have explained how they are asked to do more with less while struggling to produce quality journalism.
The research provides a clearer picture of an evolving professional work environment and what can be taught in immersive newsroom experiences such as Multimedia Reporting, Statehouse Reporting, Digital Media, and Multimedia Sports Journalism. Research also shows how working journalists contend with legal and ethical dilemmas, which transcends into classroom instruction in Ethics and the Media, and First Amendment.
I've enjoyed the best of both journalism worlds. I've had great opportunities to work as a professional journalist and now have the privilege of teaching the next generation of journalists. Bringing those worlds together is what I find most enjoyable.
Education
—
Journalism and History, South Dakota State University, 1987
Journalism, University of Missouri, 2003
Ph.D. in Journalism, University of Missouri, 2006
Research
—
Burnout and life issues of newspaper and television newsroom workers
Organizational adaptation and development of newspaper and television newsrooms
Media ethics
Journalism education
Sports media
Selected Publications
—
Reinardy, S., and Zion, L. (2019). Cutting deeper: U.S. newspapers wipeout jobs and alter career identities. Journalism Practice. DOI: https://doi.org/10.1080/17512786.2019.1691935
Ternes, B., Peterlin, L. and Reinardy, S. (2017). Newsroom workers' job satisfaction contingent on position and adaptation to digital disruption. Journalism Practice. Spring. DOI: http://dx.doi.org/10.1080/17512786.2017.1318712
Reinardy, S. (2016). Quality still scores high with sports journalists despite doing more with less. Journal of Sports Media, 11(2): 45-61.
Reinardy, S. & Bacon, C. (2014). Feast and famine? Local TV news workers expand the offerings but say they are hungry for quality journalism. Journal of Media Practice, 15(2): 133-145. DOI: 10.1080/14682753.2014.960766
Reinardy, S. (2014). "Autonomy and perceptions of work quality drive the job satisfaction of TV news workers." Journalism Practice, February, DOI: 10.1080/17512786.2014.882481.
Reinardy, S. & Crawford, J. (2013). "Assessing the assessors: JMC administrators critique the nine ACEJMC standards." Journalism and Mass Communication Educator, 68(4): 335-347.
Reinardy, S. (2013). "Boom or bust? U.S. television news industry is booming but burnout looms for some." Journal of Media Business Studies, 10(3): 23-40.
Reinardy, S. (2013). Depleted resources causing burnout among newspaper layoff survivors," Newspaper Research Journal, 34(3): 6-21.
Book: Reinardy, S. (2017). Journalism's Lost Generation: The Un-doing of U.S. Newspaper Newsrooms. New York: Routledge.
Book: Reinardy, S., & Wanta, W. (2015). The Essentials of Sports Reporting and Writing, 2nd edition. New York: Routledge.
Book chapter: Reinardy, S. (2013). "A concise history of early baseball." American History through American Sport: From colonial Lacrosse to Extreme Sports. Danielle Sarver Coombs and Bob Batchelor, editors. Santa Barbara, Calif: Praeger.
Awards & Honors
—
Since 2005, have received eight top research paper awards among national and international journalism and mass communications organizations.
Elected the inaugural chair for the Association for Education in Journalism and Mass Communication's Sports Interest Group, 2010-2011
2018 Distinguished Alumnus Award, South Dakota State University Department of Journalism and Mass Communication, Spring 2018
Budig Professorship of the Teaching of Writing, 2014